Erasing Opportunity Gaps
Using a Collective Impact Approach 
At UC San Diego, our work is informed by our shared aspirations: 
For every member of our diverse learning community to

 succeed academically, engage in research and innovation, enjoy a rich co-curricular experience, be supported in health and well-being, and be prepared for a fruitful career and lifelong engagement with UC San Diego;

 

For every member of our diverse faculty and staff to achieve distinction in their varied professional roles and have a sense of agency, belonging, and impact within a mutually supportive community at UC San Diego.

 
Our efforts to make every member of our campus feel informed, mentored, valued, heeded,  and empowered directly supports the university Strategic Plan and Equity, Diversity, and Inclusion (EDI) Accountability Framework. 
As our university has rapidly expanded, various schools and offices have created unique programs that address the needs of individuals in particular disciplines, career paths, or personal circumstances.  Yet, these valuable programs cover only a fraction of the Triton community. To erase the opportunity gaps that divide us, we must find ways to reach everyone. 
Academic Affairs invites you to join  "Erasing Opportunity Gaps via Collective Impact" – an initiative to leverage and enhance the disparate mentoring, training, and support systems at UC San Diego that have the potential to jointly improve the experience, climate, and performance for all of our students, staff, and faculty.  
Letter from EVC Simmons (January 8, 2021)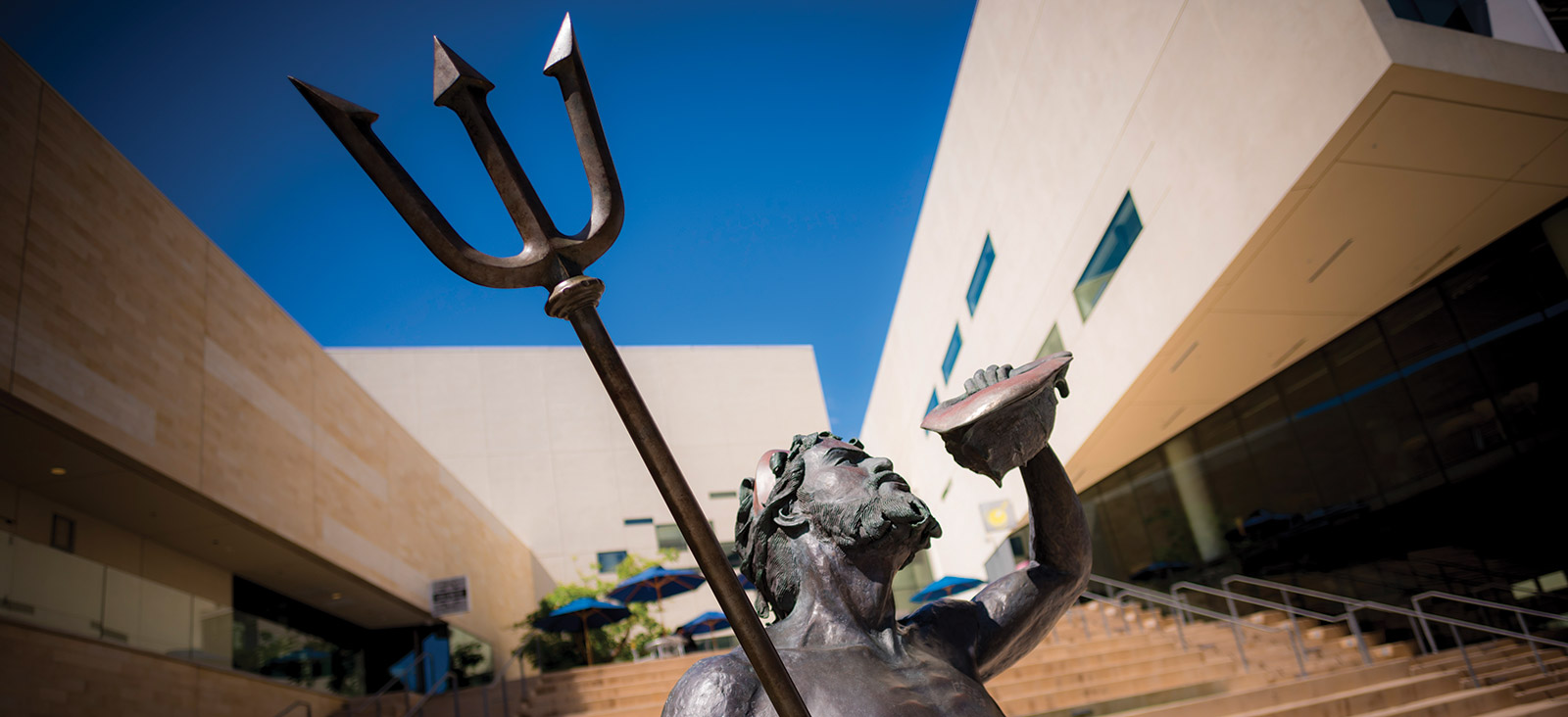 In recent years, UC San Diego has been widely recognized for tremendous accomplishments in research, innovation, and the arts; for compassionate support of vulnerable communities; and for providing an outstanding education to an increasingly diverse student population. During the same period, an array of reviews, including our WSCUC reaccreditation report and data from the UC Undergraduate Experience Survey (UCUES),  Staff@Work, and Academics@UCSD surveys, have consistently highlighted key opportunities for improvement. The largest opportunity that the various reviews have identified is for us to unify our many efforts to makee members of the university feel informed, mentored, valued, heeded, and enabled to do their best work.  
Indeed, one of the most striking lessons from our response to the pandemic has been the effectiveness of the many instances where individuals and groups from many parts of the university came together to jointly transition previously separate efforts to the remote environment or to create innovative solutions to unfamiliar challenges.  The examples span everything from teaching and summer programming to student recruitment and onboarding to health and safety initiatives to communication and strategic planning.   They demonstrate that by uniting our efforts, we can achieve our aspirations for improving the university experience and promoting student, staff, and faculty success.
A collective impact summit hosted on campus helped participants appreciate how we can most effectively unify and leverage the excellent programs that now exist in separate spheres, so they can jointly address challenges at campus scale.  
The key elements of the collective impact model are: 
Setting a common vision for change and a joint agenda for approaching the issue
Developing a shared system for measuring results
Coordinating mutually-reinforcing activities for maximum impact 
Strengthening communications among participating stakeholders
Establishing a dedicated team to facilitate the logistical and administrative aspects of the overarching initiative
If we leverage existing initiatives by creating collective impact networks among programs and fostering communities of practice among individuals, we can scale and strengthen the onboarding, mentoring, training, and support systems that have the power to dramatically improve experience, climate, and performance for all.  In doing so, we will also more appropriately recognize and reward the work involved, which has far too often been invisible.
This approach is consistent with our university history, our spirit of innovation, and our inclusive aspirations.  Its collective orientation will encourage individuals to flexibly address local needs, while staying connected for maximum impact. The focus on assessment will push us to blend the best of our prior in-person experiences with the virtual tools we have learned this year.  And its drive for greater reach and inclusivity will push us to reach campus-wide scale.
In summer 2019, university community members started working together to more clearly define our aspirations and how we can best pursue them.  The initial conclusions are captured in the set of conceptual maps linked below, including what we already do, what we are striving to become, and what we must achieve to further excel as a student-centered, research-focused, and service-oriented public university.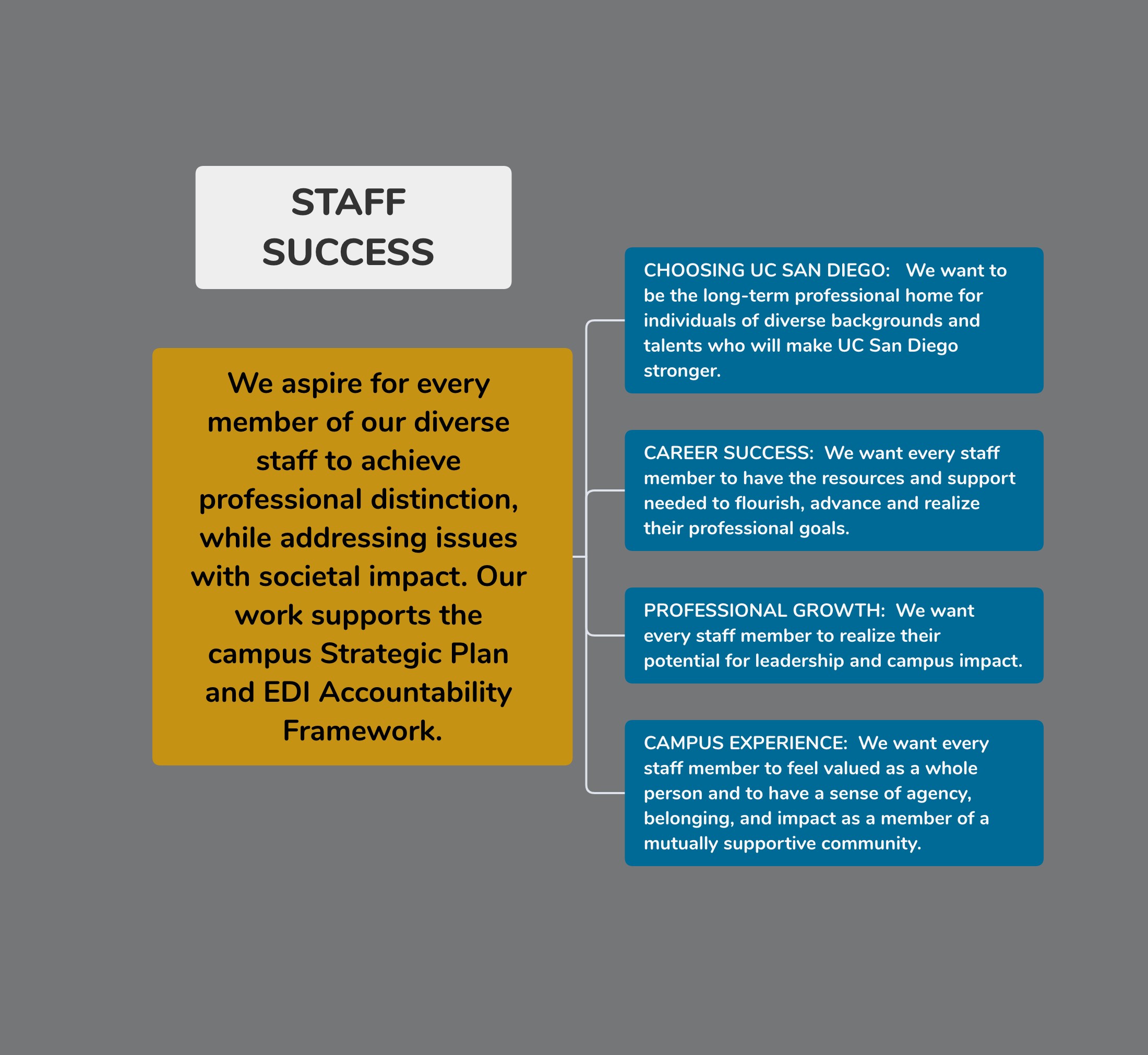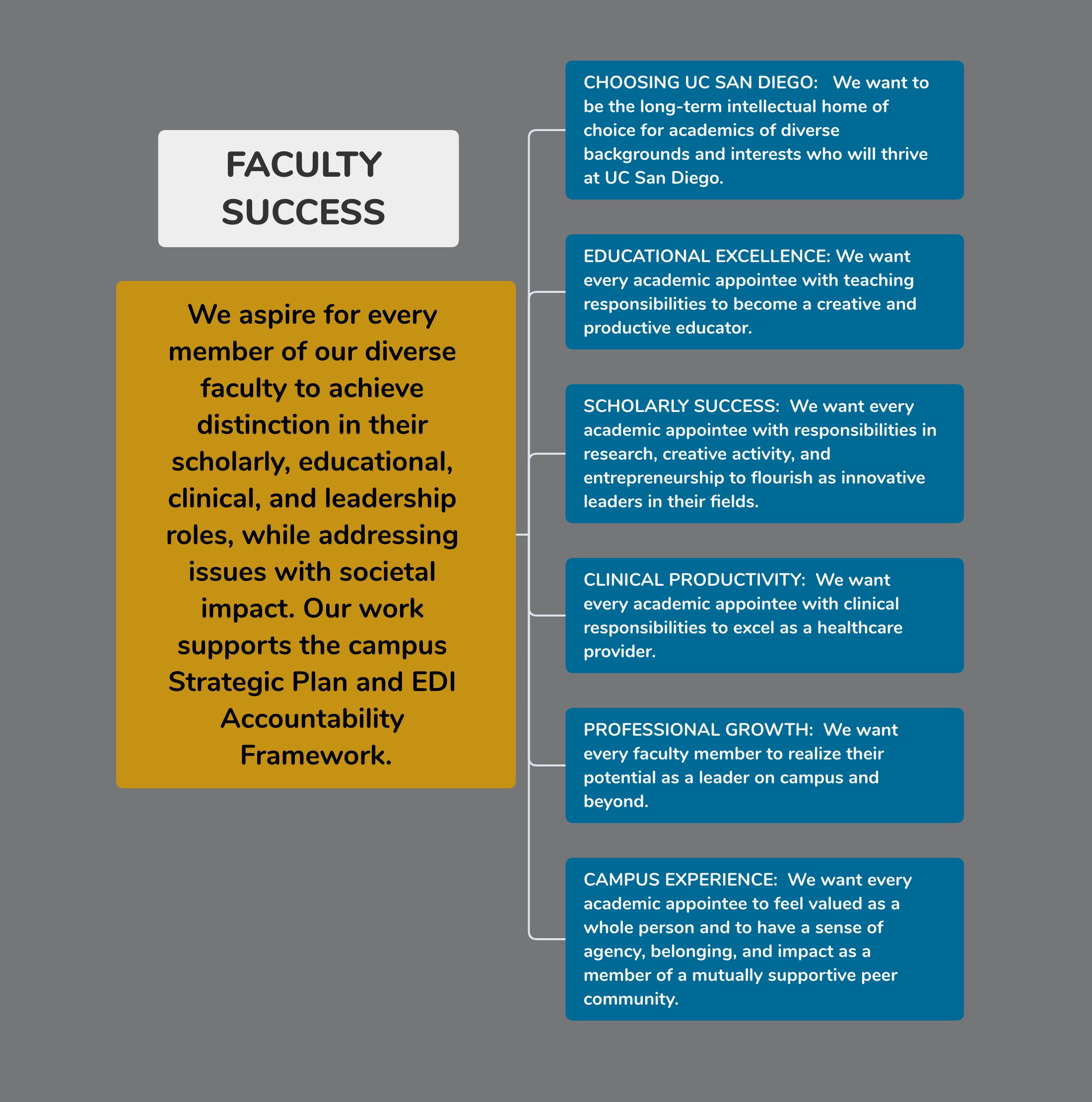 At a more granular level, the group also took a deeper dive into one aspiration for our students: timely graduation; the infographic linked below summarizes the array of methods university partners have been using in recent years to address this complex issue.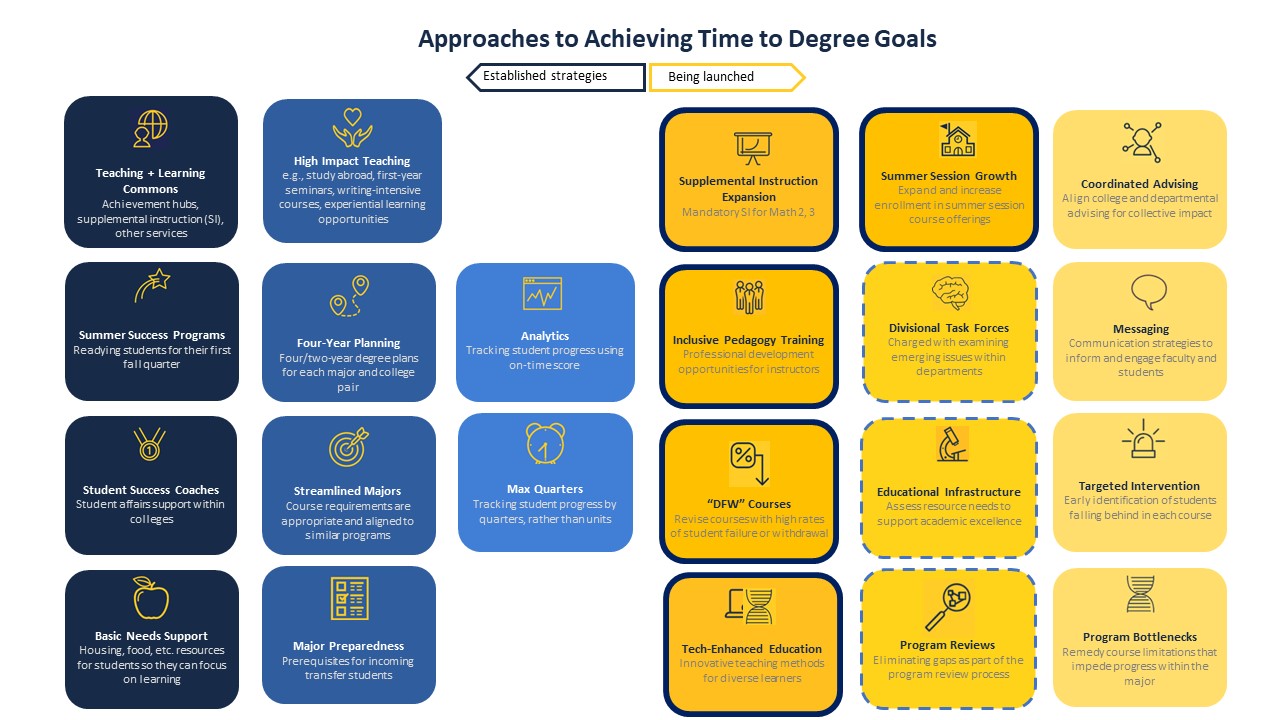 Infographics 
like these can be helpful tools for starting conversations with colleagues about how we can achieve more together
.  
Next Steps
Several initial collective impact efforts of this kind are already planned or getting underway. More information about them will be posted here soon. With your help, we will also be able to identify and prioritize additional collaborative initiatives to launch. Your input, participation, and ongoing contributions will be vital to our collective success in erasing opportunity gaps.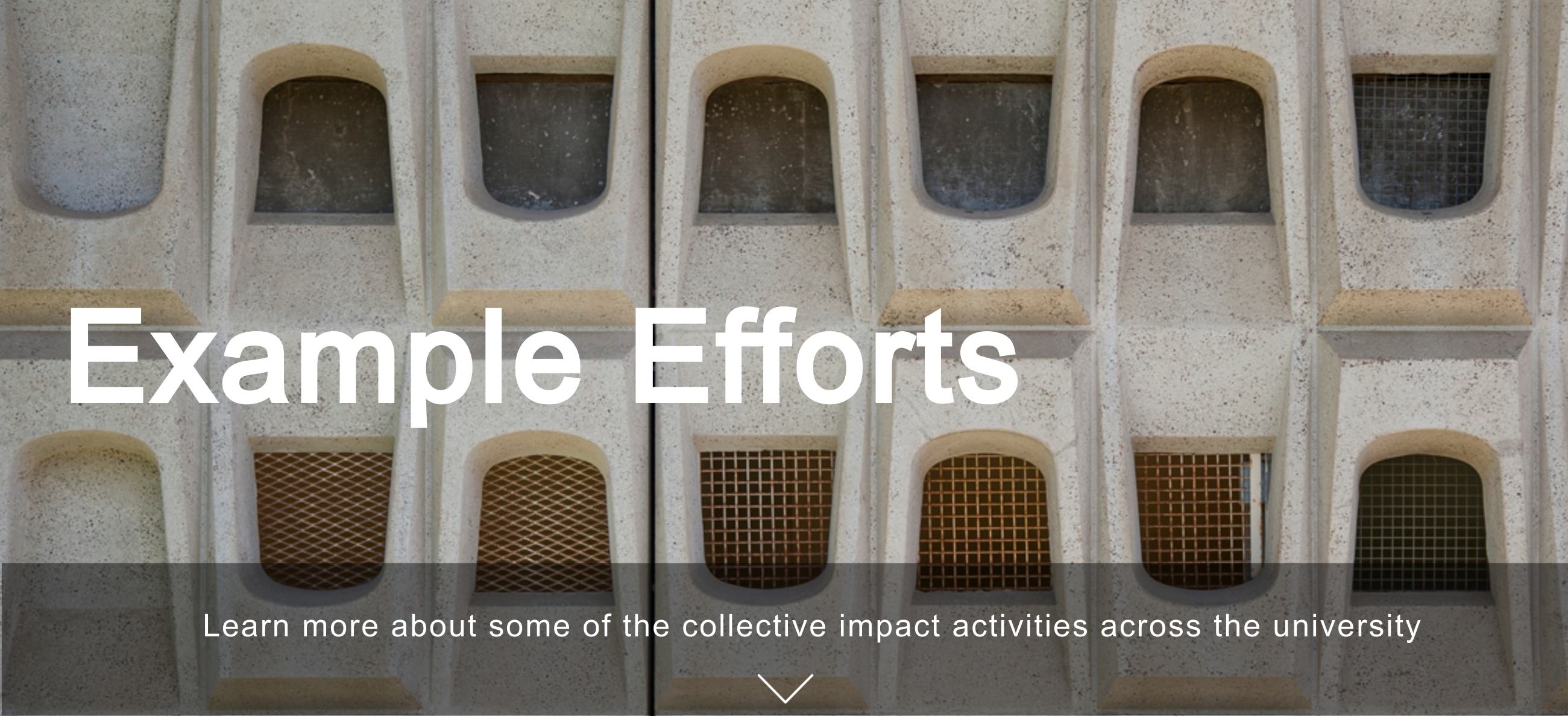 Past Examples
UC San Diego has a longstanding history of collaborating across the university in support of strategic goals. Some past examples of collective efforts include:
Educational Innovation initiative that led to the Commons... 
Center for Advancing Multidisciplinary Scholarship for Excellence in Education... faculty learning community that gathered organically and thinking of becoming more formal....